What do copy and poetry have in common?
Hey, I won a writing award! And I'm no Bob Dylan so I'm here to say that I'm thrilled. This is me grinning cheerfully with the extremely splendid trophy: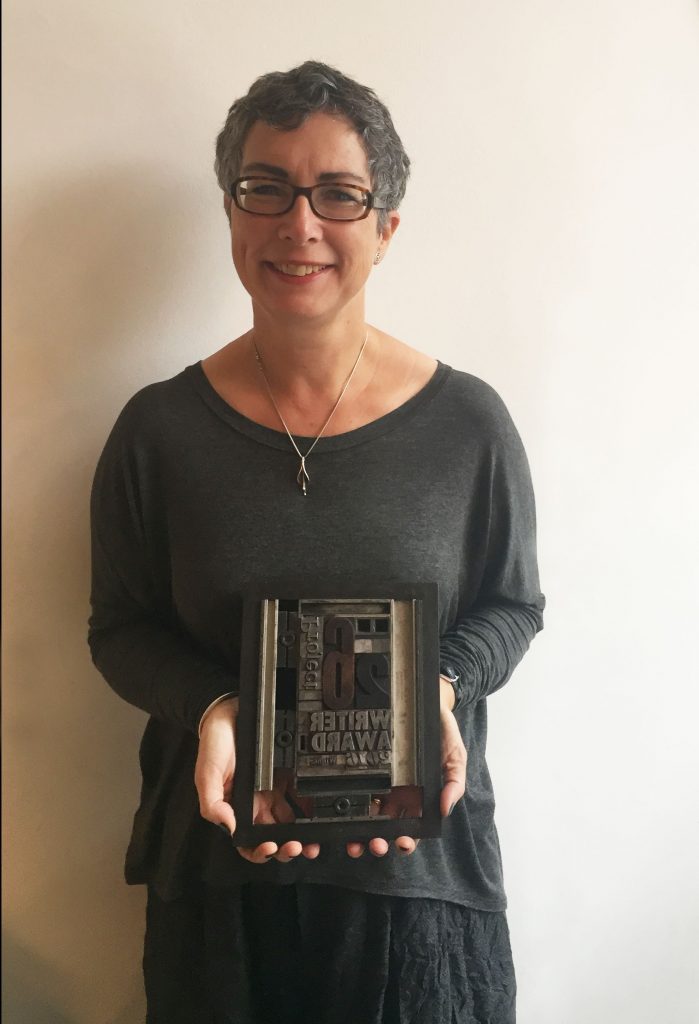 It's a wonderful piece of letterpress, created by Professor Phil Cleaver of the Type Archive and it's propped on my desk beside me (it would rip the plaster from the wall if I tried to hang it).
What's it for? The lovely people at 26 awarded me their Best Writer on a Project prize for a poem I wrote with them and the Foundling Museum. A poem, I hear you say. Does that mean you're all arty farty and too highfalutin to write copy these days?
Far from it.
Copy and poetry have a lot in common:
Constraint: copy has to fit a certain space; a poem, however free, has a form. This one had to be exactly 62 words long.
Good copy is as pared back as it can be. So is a poem.
Copy and poems have rhythm; they may even rhyme. You'll feel it even if you never read them aloud.
They're powered by accumulation, antithesis, assonance and a whole A to Z of Literary Devices. And not just for effect. They deliver the goods, often without you noticing.
When they get it right they make a little wrench in your gut by showing you something new.
They use words that move you, trigger memories, create images, persuade you to do something you didn't expect. And I don't mean clouds and daffodils.
So why am I saying this? I definitely don't suggest you hire a poet next time you need some copy. Apart from anything else, a poet writes what they want, not what you want and who knows what you'd end up with.
But when you're choosing a copywriter, maybe it's no bad thing if they write poetry in their spare time?