Don't sweat the grammar
What would you expect to learn on a business writing course?
It turns out that plenty of people want – or maybe just get – lots of grammar.
I'm going to teach a course on writing for business so I've been looking at what other courses include. I expected them to cover some grammar, or at least the importance of it, but I was surprised at just how much grammar there was.
Maybe I shouldn't have been. A quick trawl through yesterday's LinkedIn articles came up with this: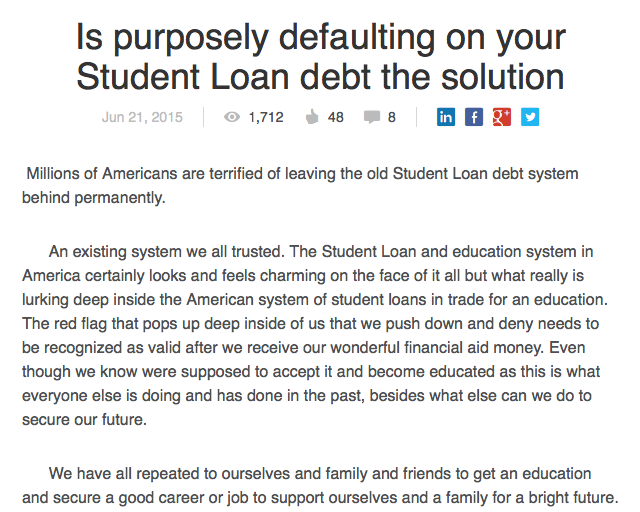 I've seen worse – we all have. And I can work out what Christopher Thomas is saying. But I'm having to try hard to decipher his meaning, and that's the problem when a writer doesn't take time to get their grammar right – it's just no fun to read them.
If you understand the basic rules of grammar you can make sure your writing is clear to everyone.
On the other hand, you can write grammatically but achieve nothing. If your sentences are immaculate but the content is meaningless, no one will read it:
"Our passionate team of bricklayers consists only of the finest ballet dancers."
Just as they won't if it is irrelevant or boring:
"After many years of exhaustive research, consideration and discussion it has been concluded that there may be more than one way to express a complex concept – whether or not one accepts the idea that a single idea may be complex, or in fact consists of many ideas gathered together for convenience – and that it is therefore possible that time has been wasted that should have been spent on learning to write those ideas in straightforward English."
So I reckon I'll be teaching people a bit of grammar, and I'll point them in the direction of the handy Oxford Dictionaries Language Matters pages for when they get stuck or confused.
But most of all we'll think about why we're writing and what we want our readers to do. We'll make sure our words hit the spot by thinking about clarity, structure, planning, voice and tone.
And just to reassure anyone who feels anxious about their grammar, here's part of a Twitter conversation from last week. Everyone taking part is a professional copywriter, and none of us knew the right answer. So don't sweat the grammar.